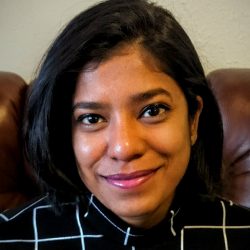 Interview with an Engineer
Join us for our new Allvision Interview Series, where we take a few moments out of changing the AI world to talk to the people who make everything work – our engineers. Let's hear from Ramya Malladi, Allvision Senior Software Engineer. 
Q: How did you decide to become a software engineer?

RM: I happened to take a signal processing course in undergrad and I really enjoyed it. I still remember that class on Fourier transforms and I only got more interested as the course went on. Eventually, I learned enough to be a computer vision software engineer.
Q: Tell us a bit about your background, including education and previous positions.
RM: I got my Bachelor of Technology degree in Electronics and Communications Engineering from Jawaharlal Nehru Technological University and my Master of Science and Doctor of Philosophy degrees in Electrical and Computer Engineering from the University of Arizona. I then worked as a graduate researcher at the Signal and Image Laboratory (through the University of Arizona). My research interests during the time as a graduate researcher included topics such as image denoising, superpixels, deep learning, and segmentation of rock images.
Following my graduate work, I was employed as a research intern for CBM sensors LLC. As a research intern I worked on deep learning techniques applied for analysis of images of electrical power equipment and application of image processing techniques such as color mapping and compression on
thermography image datasets.
Q: What does your typical day look like?

RM: To answer this question, let me tell you about the typical process for one of our computer vision problems that I would be working on. My "typical day" is working on part of this process. The entire process usually takes from a week to sometimes a month or a two. I start with surveying current public research. Sometimes, there is a solution that I can adapt with simple tweaks and adjustments. Other times, I can only take ideas from the research. When this happens I write some Python code to test the ideas and identify best solutions and create technical documentation. Then, I work with my colleagues to develop the production codes in Python.
Q: Give us an example of a project or problem that you're currently working on.

RM: I am currently working on developing a user-defined ML system for detecting assets in urban environments.
Q: What are the skills, experiences, and attributes that can contribute to being a successful software engineer?

RM: I am a computer vision specialist, but it takes many different kinds of specialists to make a good product. I think being able to talk and work with people outside your speciality is the most important quality that a software engineer needs for success. For example, I am good at creating machine learning models for solving hard computer vision problems, but I am not good at scaling up those models to the size of real world data that our customers have or creating APIs that they can easily use. So, if I wasn't able to communicate with my coworkers, I would be less effective at my job.
Q: What are the biggest challenges that you're currently facing?

RM: While being the only computer vision researcher at my company has let me work on a bunch of cool things it has also meant that I tend to work in a sort of isolation. At the beginning it was hard not being able to bounce ideas off of someone but overtime I learned how to talk with my coworkers better. I realized that even though they had different specialties they could still help me with a number of problems I wanted to talk about.
Q: What has your experience been as a female in the engineering world?
RM: I have been at places where people were intimidated by me being a female engineer and I have been at places where I never even thought about my gender while at work. 
Q: What do you enjoy about working in Pittsburgh?

RM: I enjoy the different seasons that I get to see in Pittsburgh. The growth in the tech industry, and still reasonable cost of living is a great add-on. I also enjoy the breweries in Pittsburgh.
Q: What are your talents/interests outside of your job?

RM: I started sketching/painting as a stress buster and now I enjoy going to painting/drawing classes all the time and learning more. I enjoy traveling, watching TV with my husband and playing with my two cats.
Bonus Question: Any advice for female aspiring engineers?
RM: In my experience, constant introspection of your own self and values is very important. Trusting your skills and expertise in the field you are good at and the ability to use that confidence to make decisions based on your own judgment is an important quality.
Thank you Ramya! Do you have any burning questions for our engineering team? Let us know in the comments!