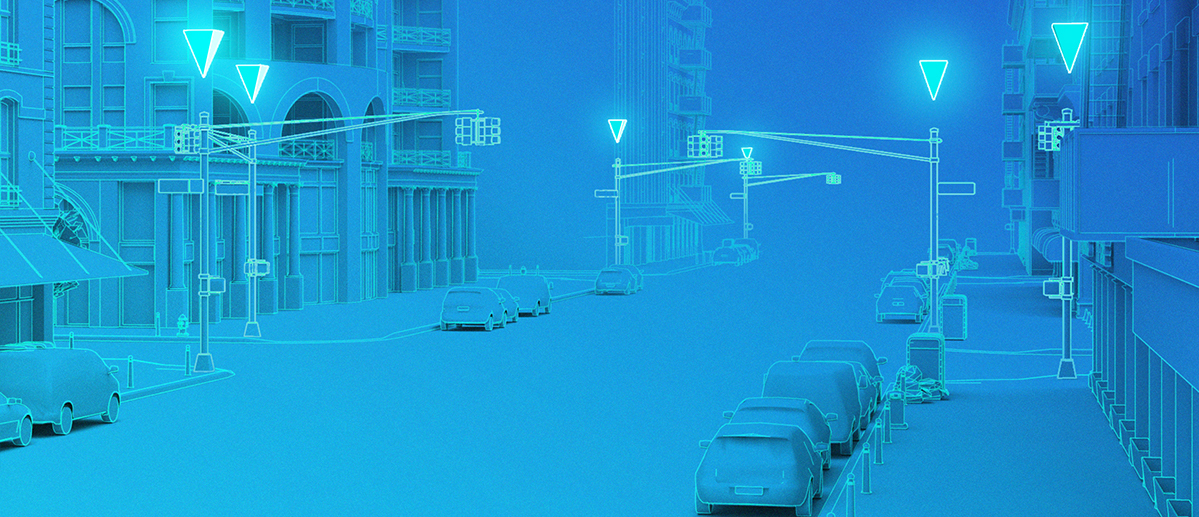 In late 2019, Allvision was chosen to participate in the 5th Cohort of PGH Lab, a program that brings local entrepreneurs to beta test products and services in local government for 3–4 months. As part of PGH Lab, Allvision will help locate and map a portion of the City's 60,000 streetlights using autonomous vehicle technology in three key areas of the city, including the North Shore, South Side, and Downtown. The article below was originally published as part of the PGH Lab Medium series. For the original article, click here, and stay tuned for additional blog posts from Allvision's PGH Lab participation.
The definition of a city can be as different and unique as each individual you ask. It's a physical and cultural hub of buildings, public spaces, restaurants and places to live and work. When was the last time you really considered all of the components that make up your city experience? Crosswalks, stoplights, directional signage, stop signs, manholes, and sidewalk accessibility all dictate how people and vehicles ultimately get where they need to go. The position of a single stop sign can mean the difference between life and death!
Allvision's results will provide city stakeholders with highly accurate information to help them make better informed budgetary, maintenance, and operational decisions.
Imagine physically counting and keeping track of each of the streetlights along your commute. A daunting task for any one entity, but challenges such as these are why Pittsburgh's PGH Lab was created — to partner with local startups and talent to tackle complex or daunting problems. Allvision IO, a startup founded in Pittsburgh and part of PGH Lab's fifth cohort, is pleased to tackle this issue by mapping, locating, and categorizing a portion of the city's streetlight assets. So, how do cities keep track of everything that goes into making a city usable and traversable? Interested in learning how? Read on!
The Challenge
Accurate information is essential to quality decision-making. Has signage fallen down, changed or shifted location? Every day, decisions are being made regarding how much to budget for infrastructure maintenance, what changes are needed to manage stormwater, where bike lanes will be placed, and what sidewalks need to be repaired. The information guiding these decisions is often collected by "feet on the street" — manpower with clipboards making notes. This information has potential to be inconsistent, outdated, and is not always easily accessible across departments. The accessibility and viability of our shared spaces depends on the accuracy of data gathering and the frequency of data verification. There are approximately 60,000 street lights throughout the city, many of them different sizes, heights, and made of different materials. "The records that we have for street lights do not provide enough information for our current needs," says Matt Jacob, who is an Enterprise Applications Administrator with the Department of Innovation and Performance, and serves as Allvision's City Champion. This lack of streetlight information is indicative of a mapping need for the City, one that Allvision hopes to solve through the PGH Lab pilot.
Allvision's Solution
You may have seen autonomous (or self-driving) vehicles driving around the roadways. They are easily spotted by the tall equipment, or sensor stack, positioned on the car rooftop. The amount of data collected by these sensors has to be exact, clear, and in real-time, allowing the cars to navigate the streets safely. Instead of navigating passengers safely to their destinations, Allvision is able to leverage this 3D data in a different way.
Partnering with cities, municipalities, government agencies, railways, and corporations, Allvision uses artificial intelligence to create maps of cityscapes, roadways, and curbs to help inform the decision making of these entities. Processing gathered point cloud imagery reveals parked cars, trash cans, vegetation, and in this particular case with PGH Lab, the city's street lights. By recording the exact location and status of these important streetlight assets, Pittsburgh is better able to future-proof their processes, making informed decisions built off of its in-house database.
"Working with Allvision to update this information will allow the City to better leverage the data for future projects and integrate streetlight information into our asset management system, Cartegraph," says Jacob.
During the pilot project timeline, three key areas of the city will be mapped, including the North Shore, South Side, and Downtown. At the end of the project, the hope is that Allvision's results will provide city stakeholders with highly accurate information to help them make better informed budgetary, maintenance, and operational decisions. The timeframe to capture usable data from an area can be short, but the impact of the information provided can last for years to come.
Allvision Fun Facts
Allvision has created its own proprietary sensor stack comparable to those positioned on autonomous vehicles and is able to collect data independently.
Allvision utilized a fellow East Liberty neighbor, and member of the PGH Lab second cohort, Kaarta for their 3D scanning technology. Read about Kaarta's PGH Lab project.
Allvision has an official "spokes vehicle," a classic Pontiac Firebird Trans Am known as KITT from the 80's television show Knight Rider. The car is owned by Allvision CEO and co-founder Aaron Morris, and was the car he drove in his teenage years.